2019-2020 Registration Information
To go directly to the SKYWARD LOGIN page – CLICK HERE
ON-SITE REGISTRATION FOR NEW STUDENTS:
Thursday, July 25, 2019 10:00 a.m. – 6:00 p.m.
New students and their parent/guardian representative should report to the building that the student will attend.
ONLINE REGISTRATION FOR RETURNING STUDENTS will be announced soon.
Returning students are expected to register online. If you have no home access, the public libraries are available to you for registration.
ALL STUDENTS SHOULD BE REGISTERED BEFORE SCHOOL BEGINS!
HELPFUL FORMS:
HANDBOOKS:
Eastern ES 2018-19 Handbook.pdf
Eastern MS 2018-19 Handbook.pdf
Eastern HS 2018-19 Handbook.pdf
BOOK FEE LISTS: KG students fees are set at $0. All others may find their fees below:
2019-2020 Fee Listings coming soon.
KOKOMO BUS STOP FORM: For parents desiring student transportation to/from Kokomo.
Kokomo Bus Stops Waiver and Release Forms.pdf
REGISTRATION NOTICES: Notices and forms indicated for your information during online registration.
Eastern Elementary is preparing for the new school year. It is time again to talk about new Kindergarten students. The information regarding enrollment for new kindergarten students is below.
Parent Night: March 5 @ 6:00 p.m.
Open House: March 19, 6-7:30 p.m.

There will be snacks, face painting, bus rides & other fun activities for the incoming students.
Please bring a copy of your child's birth certificate and proof of residency to one of the meetings.
If you have any questions, please call Eastern Elementary Office – 765-628-7866.
2019-2020 Calendar Approved
Eastern has officially released the approved 2019-2020 School Year calendar. You can preview the calendar below or you can download it from the same area if you would like.
Kokomo Area Bus Stop Form
Below you will find the newest version of the Eastern Howard Kokomo Bus Stop Form. Please review the document and fill it out if your student requires transportation to school from Kokomo.
Now Accepting Transfer Applications
NOW ACCEPTING OUT OF DISTRICT TRANSFER APPLICATIONS for the 2019-2020 School Year
May 3, 2019 is the DEADLINE! It is time to submit your application…spots are filling up much faster than anticipated.
We are accepting applications for all grade levels.
We will determine capacity at the May 2019 Board Meeting.
FREE KINDERGARTEN WITH ZERO FEES!
School Grade A on the State's report card.
98 percent graduation rate!
High achieving and believing that every child can have success.
BE A COMET!
You can access the online application at this link.
Eastern has officially released the approved 2018-2019 School Year calendar. You can preview the calendar below or you can download it from the same area if you would like.
Looking for some custom Comet gear? Well, you're in luck. Eastern has partnered with MyLocker to bring you custom Comet gear. Best of all, part of the proceeds from every purchase returns to the athletics program to help fund student achievement. If you would like to customize your own gear check out the link below
.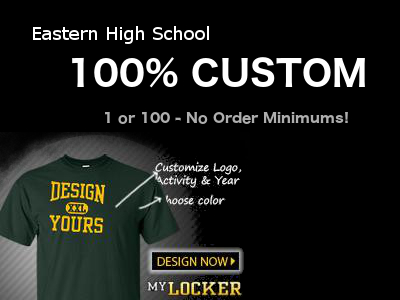 Does Your Business Need Promoting?
Want to help out the athletic department and promote your business?
Eastern is always looking for ways to partner with local businesses. If you are interested in promoting your business and your involvement in the schools then please submit an inquiry to Nick Sale, our athletic director.
The Whorwell Musicianship Fund
Initiated by EHS band alums to honor Chuck and Joann Whorwell, this fund is committed to enhancing a culture of fine musicianship at Eastern High School.  Its goal is to make instruments more available and affordable and to provide for special clinics and instruction.  In 2016 grant funds were used to purchase two trumpets, and in 2017 nearly $1,000 was granted to purchase two flutes and one clarinet.
As of August 2017 the fund total was $30,100.  Continued donations to this fund will make even larger grants possible year after year.