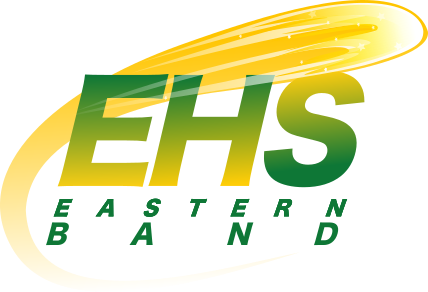 Welcome To the EHSC Bands Page
Welcome back to another great school year!  Please take a look on our class pages to find your class handbook and calendar.  I'm looking forward to some wonderful experiences in band this year!
Eastern High School Announcements
Monday September 12, 2022
Attention middle school students. FCA for middle school students will begin  on Wednesday,  September 14 after school until 4 in Ms. Carpenters room.  During FCA we will do a lesson and have snack. If you are interested in joining FCA please plan to attend September 14. If you have any questions, please see Bailey Miller.
Attention Juniors and Seniors – A representative from Manchester College will be at Eastern on Thursday, September 15 at 9:30.  If you would like to learn more about Manchester College, please sign up with Mrs. Koziel in the Guidance Office by Tuesday, September 13.
Attention middle school students. Student Council will have a meeting Sept. 13 after school in Ms. Carpenter's room. 7th and 8th grade students who are interested in serving as President, VP, Secretary or Treasurer need to email Ms. C to let her know you are interested in holding an officer position by tomorrow. Student Council members don't forget to be thinking of dress up days for homecoming week and a middle school dance theme.
There will be a high school Softball call out meeting today @ 3:45, at the varsity field.
Attention all middle school and high school students! SADD Club will be having a call out meeting Tuesday September 13th after school in the Nurse's office! Please stop by and sign up if you are interested in being in SADD this year!
The boys cross country team placed 13th in the Maconaquah Invitational.  Obi Greene led the team with a 32nd-place finish.  Nate King set a 14-second PR.  Great job!
The girls cross country team placed 12th at the Maconaquah Invitational.  Ava Kantz was the Comets' top finisher, crossing the line in 18th place with a season-best time of 21:54.  Maddie Wyrick and Claire Wavra both set personal records.  Great job!
The Lady Comets dominated in a conference win against Delphi this past Saturday 8-1. Lydia Hertzog had a hat trick and 2 assists, Claire Hapner had 2 goals and an assist, Brooklyn Brooks had a a goal and an assist, Grace VanBibber had a goal, Julia Saklie had a goal, Emma Budde had an assist, and Ruby Sheets had 4 saves. Great job Ladies! Their next contest is Tuesday at home vs Oak Hill.
Comet Command
Gearing Up For The End Of Our Season
We're excited about our this season's show: Sunday in the Park!
Winter Activities
Winter Guard rehearses on Mondays, Tuesdays, and Thursdays at 6pom. Jazz Ensemble rehearses before school at 7am on Wednesdays and Thursdays.